History
Humphries Shoes was founded by Walter Humphries in 1862. The first shop had a prime spot in the centre of Evesham Street, Redditch, and was easily recognised by the two iconic eagle statues above the store. Walter, a very religious man, was able to hand make three pairs of shoes or boots every two days. Walter was father to four children, including his only son, William, born in 1868.
Around 1890, William took on the business at a young age as Walter took a step back. William successfully guided the business on his own for several years until his eldest son, Harold, was old enough to join the business.
---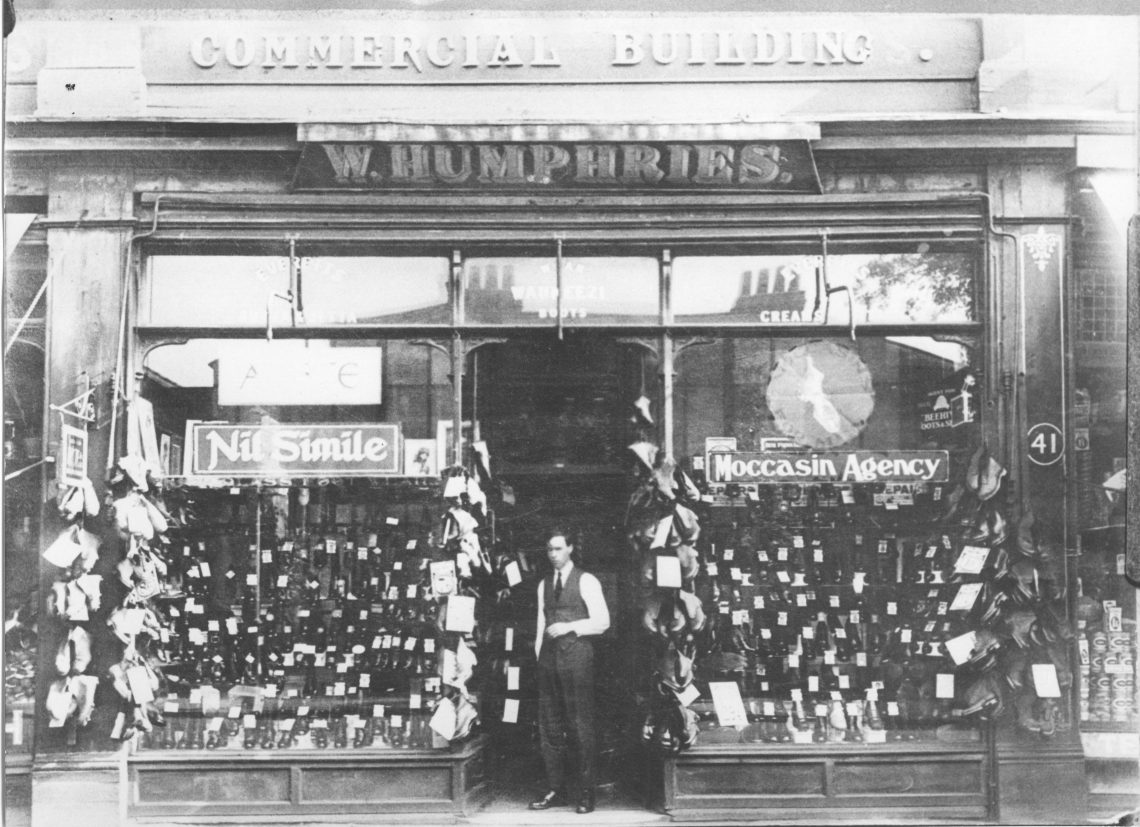 ---
William Humphries, Evesham Street, 1920
---
Harold ran the business with his father up until WWI, when he volunteered to serve his country joining the Royal Artillery. By the autumn of 1918, Harold had passed his Officer Cadet Course but chose not to pursue his career as an Officer in the Royal Artillery, but instead to return to run the family business with his father.
By 1930, William's other son, Corrie, had joined the business. William went on to retire and allowed Harold and Corrie to run the business as a partnership. Harold steered the business through difficult times during the Second World War as Corrie served in the RAF.
1960 saw the new company formed as we know it today, Humphries Redditch Limited. Just a year later, Harold's only child, Donald, was appointed as chairman of the business after having spent time in the RAF.
Early in 1973, the fine old shop on Evesham Street was under compulsory purchase and demolished as the Humphries family moved to a new premises in the Kingfisher Shopping Centre, Redditch. Humphries Shoes thrived in its new store as it saw the centre grow over the years. By 1984, Humphries Shoes was recognised by Clarks to be the first retailer to sell over 100 pairs of shoes in one style, a great achievement under the leadership and commitment of Donald.
The Humphries family expanded as it acquired a long established shoe store in Alcester in 1988. The cosy shop was a perfect addition to the family as it saw Humphries go from strength to strength.
Donald welcomed his two youngest sons, Hugh and Nick, to the business during the 90s. The family continued to establish itself across the midlands stocking quality footwear at affordable prices.
After many more successful years, 2007 saw the Humphries family acquire another long established shoe store, this time in Stow-on-the-Wold, a beautiful Cotswold town. The Humphries family turned this store into the busy, crowd-drawing shop it is today.
Humphriesshoes.co.uk was launched during the winter of 2017, offering its incredible range of quality footwear, across all departments, to customers who are unable to make it to our excellent stores.
With the combined knowledge and experience the Humphries family have to offer, along with that of the staff, the future for Humphries Shoes is brighter than ever.
"With service like it used to be"
Humphries Shoes is very much a family run, family friendly independent shoe retailer. Priding ourselves on our quality and personal service, we are able to cater for the whole family. As a result of this, we see generations of families coming back to us year after year for all their footwear needs.
Our Redditch store, a Clarks main fitting centre and a Start-rite main stockist, has one of the largest selections of children's footwear in the country. We stock children's shoes in four widths and half sizes and you'll also receive a Polaroid photo of your child with their first shoes! Our staff are fully trained and able to fit your children's shoes, with no need to book an appointment. The men's and women's departments have a huge selection of footwear for all occasions, as well as accessories to match in some cases. We stock men's shoes in sizes 6 – 13 and women's shoes in sizes 3 – 9, including half sizes where available.
Our Alcester store stocks a selection of Clarks for children and our staff are fully trained to fit your children's shoes with no appointment necessary. The men's and women's departments offer a large selection of all types of footwear as well as accessories. We stock men's shoes in sizes 6 – 13 and women's shoes in sizes 3 – 9, including half sizes where available.
Our Stow-on-the-Wold store stocks a fantastic selection of footwear in both men's and women's departments. We all stock a selection of accessories from handbags and purses to belts for men. We stock men's shoes in sizes 6 – 13 and women's shoes in sizes 3 – 9, including half sizes where available. Unfortunately are Stow-on-the-Wold store does not have a children's department, however this means we are able to stock a larger selection in both men's and women's.
---